I always love to "shop" (read: look at online, fill up my shopping carts + not actually buy) for our kitchen + dining area. There are so many cute things out there and I'm constantly finding new inspiration on Pinterest. When we got married, we didn't register for gifts because we had already been living together a few years and had almost everything we could think of that we needed. A lot of it was handed down to us, but we figured we'd replace things gradually and use the money we got from our wedding for things higher on our priority list (i.e. dropping the giant trees that were right outside our kitchen windows). One typical registry thing we used some of our cash/gift cards for was a new dinnerware set. We have the
Emma collection
from Pottery Barn, plus a few of the matching serveware items and really love it. It's nice enough to use for fancier occasions (not that it happens often), but perfect for every day use too. These days, I usually spend any extra cash on Ellie's wardrobe, but occasionally find something for our kitchen that I can't resist! Today I'm sharing some of my favorite kitchen wish list finds!
The light fixture is something we already have, but I had to include it because it's one of my favorite things in our whole house! A change in lighting can make a huge difference in a room, and we are planning to take our beloved fixture when we move (unless the buyer really wants it, but in that case I'm sure we'd buy the same exact one for our new house). I'd love to have one of those three tiered baskets for our little coffee station - mugs in the biggest basket and k-cups in the smaller ones. How cute is that cake stand?! It seems like the
similar Jadeite ones
are pretty popular but I'm definitely loving the pretty light pink. I'm also really loving all of the copper everything that seems to be popping up these days, as evidenced by some of these totally swoon worthy kitchen inspo finds!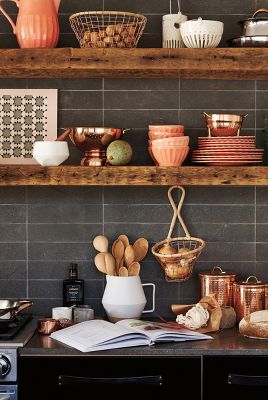 I'm usually drawn to all things white, bright + airy, but as you can see I'm really loving all kinds of pretty spaces right now. I'm a HUGE Pinterest sucker and love adding to my wish list, so please share if you have some inspo or items you love!
P.S. See that light fixture in number three? Target has some
budget friendly + beautiful lighting
that looks very similar! It totally stopped me in my tracks when we were wandering the aisles this past weekend.