"Perfect for mamas, pretty for all."
Sometimes being a mom to a young child can be tough when it comes to making time for yourself, including shopping for someone other than those ridiculously cute tiny humans (there's life outside of Baby Gap!) and even dressing like the normal not-just-a-yoga-pants-and-sweatshirt-wearing woman that you once were (and still are). I find that putting in a little bit of effort goes a long way in terms of getting ready for the day, and some cute + functional jewelry is always on my must-have list! I'm sure I'm not alone when I say that wearing jewelry with toddler constantly swinging like a monkey from my neck can be a bit challenging. Finding something that Ellie's not going to break or get hurt on can be tough. When I came across the gorgeous necklaces from
The Jones Market, I knew I had found something different. Something fun + functional for all ladies, not just moms!
Candis Jones, the founder + owner of
The Jones Market
, began her jewelry making journey in 2011 when she made her first necklace for a friend. She ended up turning her jewelry making passion into a business, and has spent several years researching + creating the perfect nontoxic, tuggable, beautiful baby-friendly necklaces!
single infinity almond + mint
I can honestly say that Ellie LOVES my necklace from
The Jones Market
. From the minute I took it out of the package she was drawn to playing with the beads. She likes to hold onto my necklace when I'm holding her and wearing it, as well as just playing with it on her own (while supervised, of course!). It can help keep her occupied during the always challenging diaper changes... and making dinner, folding laundry, getting though the 5:00 witching hour, etc. ;)
The necklaces from
The Jones Market
are super versatile and can easily be dressed up or down. The necklace shown in the photos above that we got to try out is one of the double infinity necklaces and I love how it can be worn several different ways to mix things up a bit!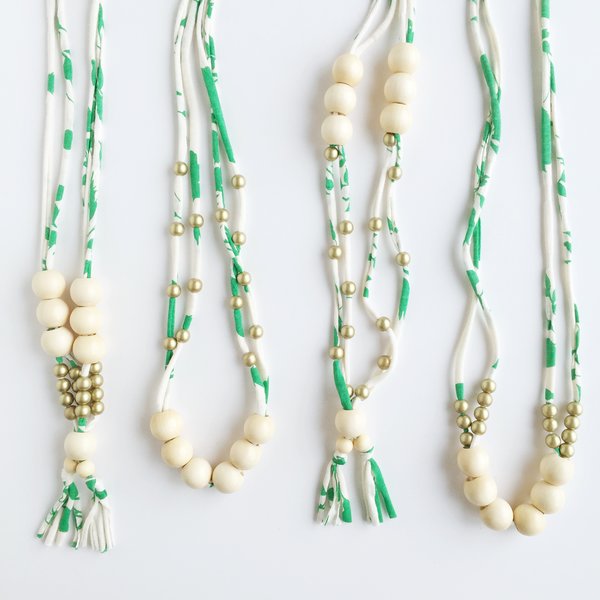 The color options are pretty much endless for necklaces available from
The Jones Market
, so there is definitely something for everyone!
The Jones Market
also has tees, totes, bracelets and some really awesome key chain wristlets that are adorable + super functional. I feel like every time we leave the house, I'm fumbling around trying to find the key to our front door while trying to hold Ellie, my diaper bag, her bag (because there's no leaving home without that), three bags of groceries and the binky that fell out of Ellie's mouth while we were walking up the front stairs... These wristlets would come in SO handy.
buffalo check infinity scarf
?!
Heart eyes for days.
These gorgeous goodies are perfect for all ladies and would make some really adorable gifts too! Be sure to head over to
The Jones Market website
to see more and follow along on
Instagram
(@thejonesmarket) for product sneak peeks, sale alerts + snippets of Candis' swoon worthy work space! :) Happy shopping! XO
Necklace provided c/o The Jones Market. As always, all thoughts, opinions + love for the products are entirely my own.